Dr. Alexander Yu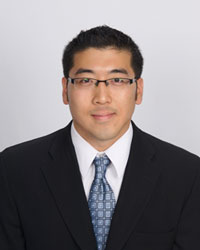 Having grown up in Bentonville, AR since 1985, I call Northwest Arkansas my home.  I graduated from the University of Arkansas in 2002 with a Degree in Industrial Engineering, but I knew I wanted to do more to help people, so I enrolled at the prestigious Logan College of Chiropractic. After a 4 year intensive program, I graduated Magna Cum Laude, and am board certified by the National Board of Chiropractic Examiners.
After graduation, I joined the team of Kent Moore Chiropractic and loved my three years there. I learned a tremendous amount on not just how to treat patients but treat them with great care. On top of helping patients, I had helped students by teaching Anatomy & Physiology for two semesters at the Northwest Arkansas Community College before deciding to open The Watermark Chiropractic Clinc. My experiences have given me a great opportunity to learn to care for a wide variety of ailments from which my patients may suffer. My mission is to restore health through natural chiropractic care, allowing my patients to live their lives to the fullest.
My wife, who was also raised in Arkansas, was my high school sweetheart and we have three children who have blessed us very much. We believe this area is the best place to raise our children and plan on staying here the rest of our lives.